What are Cornhole Bags Filled With? [Explian What's inside]
Cornhole, a game of skill, strategy, and fun that has swiftly captivated the hearts of millions, hinges its gameplay on a fundamental component – the cornhole bags. Understanding what fills these bags can give players an edge, increase enjoyment, and even promote sustainability. So, let's dive into the world of "What are Cornhole Bags Filled With?", and unravel their secrets together!
A Walk Through the History of Cornhole Bag Fillings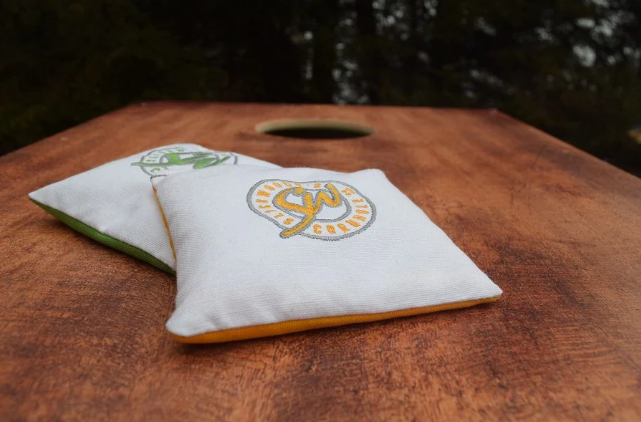 The game of cornhole takes its name from its original filling – corn. Traditionally, the bags were filled with corn kernels, which is why the game is sometimes referred to as 'corn toss'. Corn kernels were chosen due to their abundance and uniform size, which provided a reliable and consistent feel for the bags. They offered a great balance between weight and playability, making them a popular choice.
Transition to Modern Cornhole Bag Fillings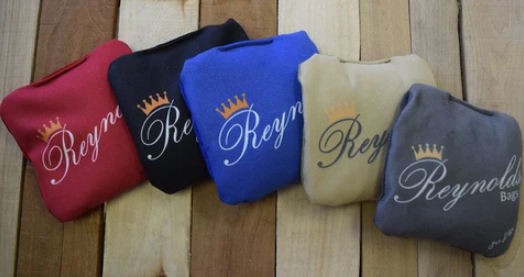 As cornhole grew in popularity, so did the innovation in the materials used for fillings. Enter synthetic materials. These were designed to mimic the properties of corn, but with increased durability and weather resistance. Plastic resin pellets became the new standard, offering several advantages over traditional corn kernels.
Advantages of Synthetic Cornhole Bag Fillings
Synthetic fillings, specifically plastic resin pellets, are waterproof, a major advantage for those unexpected rain showers during outdoor games. They also resist pests, mold, and decay, ensuring the longevity of your cornhole bags. Additionally, synthetic materials maintain a consistent weight and don't break down over time like natural fillings. This means your cornhole bags maintain their ideal weight and feel for longer, enhancing the game's playability.
Eco-friendly Options for Cornhole Bag Fillings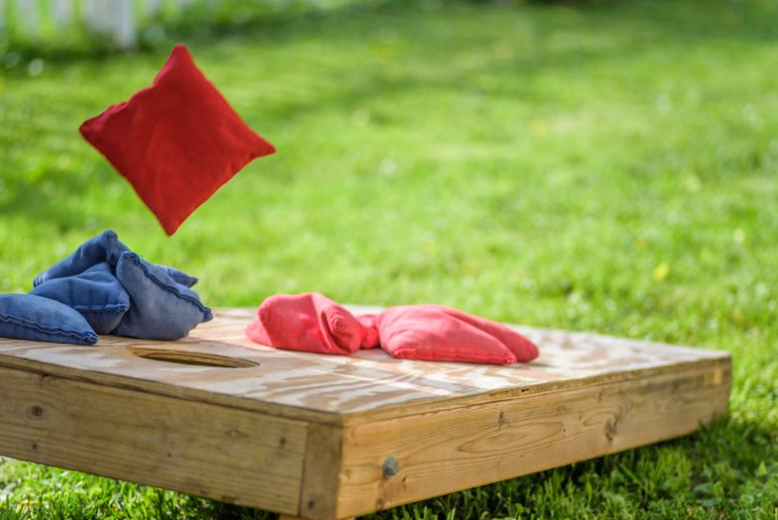 As we progress towards more environmentally conscious times, the cornhole world is not far behind. Several eco-friendly filling options have surfaced, including recycled plastic pellets and even organic materials like buckwheat hulls and dried beans. They offer a balance between sustainability and gameplay, marking a step towards greener cornhole games.
Homemade Cornhole Bag Fillings – A DIY Guide
If you're the creative type, making your own cornhole bags can be a fun and rewarding project. Consider using materials that have similar properties to traditional fillings – they should be durable, reasonably uniform in size, and maintain a consistent weight. Rice, beans, and dried peas are popular choices for homemade cornhole bag fillings. Just remember, homemade bags filled with these materials won't be as weather-resistant as their synthetic counterparts.
The Impact of Cornhole Bag Fillings on Gameplay
The type of filling in a cornhole bag directly affects its performance during the game. Natural fillings like corn kernels provide a unique 'break-in' period, allowing the bags to become more flexible and thus alter the way they land and slide on the board. Synthetic fillings, on the other hand, offer consistent performance and are perfect for those who prefer a stable toss and slide.
Professional Players' Take on Cornhole Bag Fillings
Professionals gravitate towards synthetic fillings due to their durability, consistency, and weather resistance. Most official tournaments and professional events mandate the use of plastic resin pellets for these reasons.
Cornhole Bag Filling: Safety Considerations
While the game of cornhole is relatively safe, certain considerations should be taken when choosing your bag filling. Avoid any toxic materials or small fillings that could pose a choking hazard, especially if children will be using the bags. Corn kernels, beans, and plastic resin pellets are all safe options.
Cornhole Bag Maintenance: A Closer Look at Different Fillings
The filling also influences the maintenance and care of cornhole bags. While synthetic-filled bags can withstand damp conditions and don't require as much care, natural fillings need to be stored in a cool, dry place to prevent damage. Whichever filling you choose, regular inspections for damage and timely replacements will ensure your bags last longer.
Choose Your Champion: Cornhole Bag Filling
Every cornhole player has their preference when it comes to bag filling, whether that be traditional corn kernels, modern plastic resin pellets, or even homemade fillings. The choice ultimately lies with you, the player, based on your gameplay style, preferences, and environmental considerations.
In the end, the game of cornhole is about fun, skill, and a little bit of friendly competition. No matter what your bags are filled with, as long as they fly true and land with that satisfying 'thud' on the board, they're the perfect bags for you. Happy tossing!
Decoding the Weight of Cornhole Bags
One aspect that ties directly with the filling of cornhole bags is the weight. Officially, a cornhole bag should weigh between 14 and 16 ounces. However, the type of filling you choose can affect the weight, and ultimately, the performance of the bag.
Corn kernels, for instance, may lose weight over time as they break down with use. Synthetic materials, conversely, maintain a consistent weight, thereby offering more predictable performance throughout their lifetime.
The weight of the cornhole bag affects its trajectory and how it lands on the board. Thus, choosing a filling that maintains a consistent weight can offer a competitive edge in your gameplay.
Experimenting with Cornhole Bag Fillings
One exciting aspect of cornhole is that it allows room for personalization. From the design of the boards and bags to the fillings, there's ample scope to experiment. Various materials like sand, rice, dried peas, and even crushed walnut shells have been tried as alternatives for cornhole bag fillings.
These materials, while not commonly used or officially recognized, can offer a different feel and gameplay style. For instance, sand-filled bags will be denser and less bouncy compared to those filled with corn or plastic pellets.
However, when experimenting with fillings, it is crucial to consider their impact on the weight, durability, and weather resistance of the bags. As much as the game is about fun, maintaining the integrity of gameplay is essential.
The Role of Cornhole Bag Fillings in Board Interactions
Different fillings offer different board interactions. The traditional corn-filled bags are known for their unique 'stick and slide' characteristics. When these bags hit the cornhole board, they initially stick due to the friction between the kernels and the board. But as the kinetic energy disperses, the bags slide slightly, a feature that many players use strategically in their gameplay.
On the other hand, bags filled with synthetic materials like plastic resin pellets offer more predictable interactions. They typically slide more than corn-filled bags, providing a different strategic aspect for players to utilize.
The interaction between the bag and the board plays a significant role in scoring. Therefore, understanding the impact of different fillings on board interaction can help players refine their tossing techniques and strategies.
Cornhole Bag Fillings: Impact on Bag Life
The type of filling can directly affect the lifespan of your cornhole bags. Bags filled with natural materials like corn kernels or dried beans will eventually break down with time, requiring replacement or refilling.
Synthetic fillings, particularly plastic resin pellets, do not break down and are more resistant to decay, pests, and mold. This leads to an extended bag life, saving you the hassle of frequent replacements.
Filling type also impacts a bag's resilience to weather conditions. While synthetic materials are waterproof and weather-resistant, natural fillings can absorb moisture and decay, especially when exposed to harsh weather conditions.
So, whether you're a casual backyard player or a professional aiming for the championship, choosing the right cornhole bag filling can significantly enhance your gaming experience. From the traditional corn kernels to modern synthetic fillings and even creative homemade alternatives, the possibilities are almost endless.
Keep experimenting, keep playing, and most importantly, keep having fun. That's what cornhole is all about!
Also Read: What Does S925 Mean on Jewelry? [Expert Analysis]
Frequently Asked Questions About What are Cornhole Bags Filled With?
What are the best materials to fill cornhole bags?
Plastic resin pellets and corn kernels are among the best materials for filling cornhole bags due to their weight, durability, and playability.
How much should cornhole bags weigh when filled?
Official rules state that a filled cornhole bag should weigh between 14 and 16 ounces.
Are there eco-friendly options for cornhole bag fillings?
Yes, eco-friendly options include recycled plastic pellets, dried beans, and buckwheat hulls.
Can I use sand to fill my cornhole bags?
While it is possible, sand is not recommended due to its weight, moisture absorption, and the uneven size of the particles.
How do I clean and maintain cornhole bags filled with various materials?
Always store your bags in a cool, dry place. Synthetic-filled bags can be gently cleaned with a damp cloth, while natural-filled bags should be kept dry to prevent mold and decay.
What are the most popular fillings used by professional cornhole players?
Professional players typically prefer plastic resin pellets due to their consistency, durability, and weather resistance.
Are there any regulations on cornhole bag fillings for official tournaments?
Yes, official tournaments typically require bags to be filled with plastic resin pellets and to weigh between 14-16 ounces.
Can I use plastic pellets as a filling for weather-resistant cornhole bags?
Absolutely! Plastic resin pellets are a popular choice for weather-resistant cornhole bags due to their waterproof properties.
What is the ideal size of cornhole bag fillings?
The ideal size varies depending on the type of filling. However, the material should be small enough to allow the bag to maintain its flexibility.
What impact does the filling material have on the toss and slide of cornhole bags?
The type of filling can significantly affect the bag's weight, how it flies through the air, and how it interacts with the board upon landing. For instance, corn-filled bags have a unique 'stick and slide' characteristic, while synthetic-filled bags typically slide more.